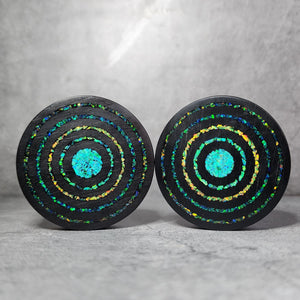 How to Make Crushed Opal Plugs
How to Make Crushed Opal Plugs 
Do you specialize in inlay projects?
This maker has mastered the art of inlay! You will want to see the craftsmanship that goes into each jewelry piece made by this beyond talented artist.
Take a look at this unique artist who specializes in handmade plugs...
-

 

Featured Creator -
@lubeyourlobes
Follow 
@lubeyourlobes
 and checkout their
Esty Shop
! 
Keep reading to learn more about the artist and their process for this project...
Q&A with the Artist 
Q) How long have you been making plugs?
A)
I first embarked on my plug making journey in March of 2019. At first I had no clue what I was doing, and used myself as the test subject for my newfound passion. I felt comfortable enough to share my work with others about five months later, and made Lube Your Lobes official in August of that year.
Q)

 

What is one thing you like about being a maker/artist?
A)
There are so many things I enjoy that it's hard to narrow it down to just one. I love the people I've met from all over the world, and being able to make someone smile with the pieces I make for them.
Q) How long have you been working with crushed opal?
A)
The first pair we used crushed opal on was back in April of 2021. It didn't really take off back then, but we revisited the material recently with a new approach, and it's quickly climbing in popularity among our clientele.
Q) What is one thing you like about crushed opal?
A)
Crushed opal adds such an amazing play if color to every piece. It adds a "wow" factor that's incredibly hard to beat!
Q) Where do you sell/showcase your pieces? 
A)
Our largest following is on Facebook, which is where we take most of our custom orders, but we also showcase/take orders through Instagram, Etsy, and via email.
Q) How can people contact you if they are interested in purchasing your work?
Ready to see the project?
 The Process Explained by
 Lube Your Lobes
💚"We start the process by laying out our materials, and constructing our plan of action."
💚"Next, we carve the wood we've chosen for the project into round disc's that we call "plug blanks". When doing inlays it's important that all measurements are accurate. We mark the cut line of the first groove 3mm from the border of the blank, and set each inlay 3mm apart so that every inlay will be evenly spaced across both plugs."
💚"Once the inlay grooves are cut on each plug blank, it's time to add our inlay material. Now we meticulously add each crushed opal to its respective groove based on our design plan. Once the inlay grooves are all filled, it's time to sand down the faces to their final shape. For this pair we went with a nice, flat surface to show off the color play of the opal."
💚"Finally, with the inlays finished, it's time to shape the wearable and polish the nearly complete pair of plugs. With the polish complete, we finish the wood plugs with carnauba wax, take photos, and they're ready to wear!"
- Results -
Featured Crushed Opal
Alien Bloodstone Crushed Opal - Size: Medium
Black Emerald Crushed Opal - Size: Medium
Nitrogen Crushed Opal - Size: Medium
Nuclear Green Crushed Opal - Size: Medium
Olive Crushed Opal - Size: Medium
Don't miss another project...

Follow Us on Facebook, Instagram, Tik Tok, & YouTube to see what our community will make next...
Do You Want To Be a Featured Creator?