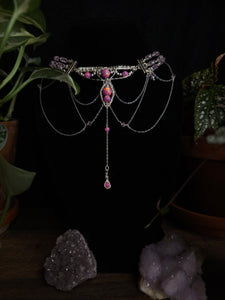 How to Make an Opal Choker Necklace
How to Make an Opal Choker Necklace
Opal beads offers versatility for a wide range of creative projects, from elegant bracelets and exquisite earrings to captivating necklaces and beyond. Dive into the world of artistry as you explore how this skilled artisan seamlessly integrate intricate designs with the radiant allure of opal beads, infusing each piece with a vibrant and enchanting charm.
Welcome
@herbal_bones
Follow @herbal_bones or checkout their website!
Get to Know Herbal Bones
Meet Sami, the visionary behind Herbal Bones, a haven for craft enthusiasts. With an unwavering devotion to all things creative, Sami's boundless passion led her to uncover the captivating realm of opal, unveiling a world of wonder and inspiration.
"I've had the need to create since I was really young. For less than a year I've worked with these opals, with how vibrant and flashy they are I was eager to get my hands on them." - Sami, Herbal Bones
Sami breathes life into our opal beads, skillfully weaving them into each creations, resulting in the emergence of truly exquisite and captivating designs. Sami shares not only a love for opal but a true knowledge of their color capabilities. 
 "I'd say my favorite part about these wonderful opals is how eye-catching they are under the sun, cameras can not do them justice." - Sami, Herbal Bones
The most rewarding feeling comes from pouring both hard work and genuine love into a creation. This becomes even more special when others recognize the unmistakable passion that Sami infuses into her work.
"Being a creator, it brings me pride and joy knowing something that I cherish so much is equally if not more cherished. Knowing that my creations can spark others creativity is my purpose in life. And I'm happy that there's a community to partner up with and create some truly memorable pieces. Never stop creating." - Sami, Herbal Bones
Don't forget to follow @herbal_bones on Instagram to see the amazing creations.
Contact Herbal Bones by email if you are interested in a custom piece!
 The Process Explained by Herbal Bones
💗"For my chokers, I start with a sketch. Where I brainstorm ideas and create dreams and goals. Once I'm comfortable with my blueprint, the hands-on process starts." - Sami, Herbal Bones
💗"The wrapping of the beads for the choker is the quickest and easiest part of the whole thing, after some fine tuning the chains are finished. " - Sami, Herbal Bones

💗"Being so new to wire craft and jewelry crafting, I was scared I wouldn't be able to do these beads justice. So I had a lot of re-do's ahead of me. And I mean a lot! I just couldn't settle!! So after 3 attempts for the centerpiece and fastening the large set of aurora opals, and 3 more attempts on the water drop; things started to fit together." - Sami, Herbal Bones
💗"From there I fashioned the .925 Sterling chain and the remaining 4mm aurora beads. You'll notice that my sketch and finished necklace are completely different. It doesn't stress me out in the least, in fact it's my favorite thing to use my sketches as more of a reference; rather than a plan." - Sami, Herbal Bones
💗"Thank you for reading about my process. The Aurora Opals are an amazing pink and a fan favorite!" - Sami, Herbal Bones
The Finished Necklace in All Its Glory
Featured Materials 
 Aurora Opal Beads in 4mm, 6mm, & 8mm sizes.
Other Materials 
925 Sterling Silver Chain, Wire, and Clasp
Crystal Pink Beads 
Wire Wrapping Plyers & Tools
WATCH THE VIDEO

Show Us Your Skills!
Contact us and show us what you make...