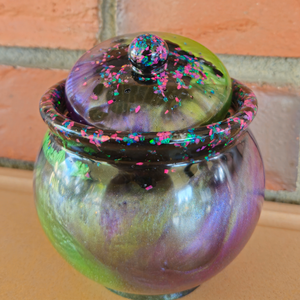 How to Make a Crushed Opal Resin Trinket Jar
How to Make a Crushed Opal Resin Trinket Jar
Crushed Opal and Resin make an absolutely magical duo for all your crafting adventures! Feast your eyes on this incredible artist who masterfully melded these enchanting materials to create a trinket jar that's as dazzling as your precious treasures! With this stunning jar, you not only get a stylish place to stash your shiny trinkets but also a shimmering work of art to admire day in and day out. It's like having a mini treasure chest that's an art piece in itself!


Meet The Creator - Soulfire Jewelry 
@soulfirejewelryllc_
Shop Soulfire Jewelry on Etsy!
Follow this artist on Facebook, Instagram, & TikTok!
 The Process Explained by Soulfire Jewelry
🫙"When it comes to my resin items I take them very seriously! I like to pre-plan what colors and stones I'm going to use to ensure the best outcomes! I pre-pick out my resin colors, and then from there I will pick out the stones that best match the colors I choose. I will then start my project. I will gather all of my supplies necessary such as the epoxy resin itself, my mica powders, the stones or
glitters I plan to use, and of course PPE items such as gloves, a face mask, and a silicone mat to keep my work surfaces clean!" -Megan, at Soulfire Jewelry
🫙"I start by mixing enough clear resin for the specific project I'm doing, and then will split the resin into however many parts I need for the colors I'm using. In the instance of my collaboration jar, I took 8 Oz of resin and split it into three parts. The leftover clear resin I used as a base for the lid and a base for the rim of this particular jar!" -Megan, at Soulfire Jewelry
🫙"I wanted to ensure that the stones and crushed opal I was
using had a good foundation so you could really see the colors pop! After mixing, the resin has approximately 30 minutes until it starts to become tacky/sticky so I had to act quickly and pour fast!" -Megan, at Soulfire Jewelry
🫙"Once everything is poured, I let the jar/lid sit
until the project starts to become a little harder. I will move it to a safe place at that time, where it will sit for 24 hours or at least until I feel it is fully cured. You don't want to de-mold a project before it is fully cured because with these particular resin jars if you de-mold early then the resin itself will warp!" -Megan, at Soulfire Jewelry
🫙"After the jars are de-molded I will then
touch up any air bubbles that I see on the jar, and I will start some product photography for our social media and our website." -Megan, at Soulfire Jewelry
🫙"The biggest thing I have learned so far with working with resin is that it can be very tricky;  sometimes things don't turn out the way you intended. When this happens, I try my best to learn from the experience! I look back at what I  could have maybe done better or maybe try something different for the next time. No project can be perfect 100% of the time and that's okay! Craft
projects such as these are learning experiences and no one starts out as an expert." -Megan, at Soulfire Jewelry
The Final Results 
Featured Materials 
Black Emerald Crushed Opal - Size Medium 
Orchid Crushed Opal - Size Medium 
Other Materials 
Black Tourmaline
Mica Powders
Epoxy Resin
PPE Safety Supplies
Mixing Tools and Containers 
Q&A with Megan from Soulfire Jewelry
Q: How long have you been making jewelry and resin creations?
A: I started making jewelry a few years ago just for fun for myself and my son! I officially started my business in March of 2023!
Q: What is one thing you like about being an artist?
A: I enjoy getting to have creative freedom over my work! Before starting my business, I worked in the corporate travel world where I was always told how I could look and dress and how I could express myself. By being in business for myself, I get to have freedom I've never had before! Also, creating
resin projects really makes me feel like a mad scientist!
Q: How long have you been working with opals?
A: This year was the first time working with opals. I've always had a love for them, and when I found The Opal Dealer on Etsy, I knew that their items would be PEREFCT for my projects!
Q: What is one thing you like about opals?
A: I love the way they shine/shimmer! The way they shift when turning an item in your hands, and just how beautiful they really can be!
Q: Where do you sell your pieces?
A: I sell most of my items on Etsy! I do occasionally offer items on my Facebook page as exclusives for followers, and sell my items at local craft markets as well!
Q: How can people contact you if they are interested in purchasing your work?
A: If people are interested in purchasing, I will have this collaboration jar and two others with various stones available on my Etsy and TikTok Shop!
If they would need to contact me, my email is soulfirejewelryllc@gmail.com and they can find links to all my socials and our shops on our Linktree!
https://linktr.ee/soulfirejewelryllc
Have you seen the video?

Stay Tuned for More...
Follow us on Facebook, Instagram, TikTok, & YouTube!
Are you a maker?