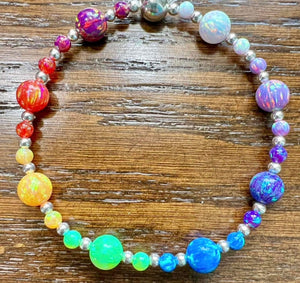 How to Make a Rainbow Opal Bracelet
How to Make a Rainbow Opal Bracelet
Enter a magical world of handmade jewelry, lovingly crafted by talented artists. Explore the realm of a skilled artisan who specializes in creating unique bracelet designs, often featuring Opal Beads. Each piece is infused with care and affection, ensuring that every design is a true work of art...


Featured Creator 
- Shari R. Santorelli - 
Learn about Shari and her art...
Shari started making jewelry in September of 2022 and shortly discovered our shop which sparked her love for opal beads! Shari finds working with opal to be an important part of her work because it brings life to her designs. 


"I've been working with The Opal Dealer since October 5th, 2022.  I absolutely LOVE the quality of these "Gems"!  Both Keely and Alex  are the nicest people to do business with. 
I love the Opal because no matter where you place it, it makes everything more ALIVE!!
" - Shari 


Shari, unfortunately, has to manage a challenging disability that has inspired her to create bracelets for a community of jewelry enthusiasts. Despite the difficulties she faces, Shari chooses to share her kindness and joy through her craft. This resilience and determination are truly admirable, making her jewelry pieces even more special.

"I love helping someone create a bracelet. Designing these bracelets helped me move forward after I suffered from a traumatic disability almost 10 years ago.  Dealing with the colors, senses and smooth designs of the Opal has been AMAZING!" - Shari


 You can find Shari's work in her Facebook group called "
HeavenLI Gems
" or
email
 her if you are interested in purchasing a bracelet from Shari!
 The Process Explained by Shari
🌈"When I discovered the World of creating Custom Bracelets, I wanted my focal point to be something GORGEOUS!  That's when I found the Opal! 
Each Opal is unique to the lighting, and you'll always have "tiny rainbows" dancing around your wrist!"


🌈"
First, this bracelet happens to land at a perfect size 7.25, which is the standard size of bracelets!  You can always add or remove pieces to size up or down.  I use a Bead Board, just to keep all of these precious Opals in one place! I then set up the Opals, starting with a 4mm Orchid Opal, then an 8mm Orchid Opal, and then another 4mm Orchid Opal.  Continue this pattern until all of your colors are on the board!"
🌈"

Next, I cut about 15 inches of Elastic Stretch Cord, in size 0.8 mm.  Make sure to pre-stretch your cord before you start stringing your Opals!  I use a "Bead Bug" at the end of the cord (scotch tape will also work) to stop the Opals from going everywhere!!!"


🌈"

The first bead on is a 3mm Solid Sterling Silver Spacer. You will place one of these between each Opal during the entire process. I keep them in a dish next to my Bead Board, as they're easier to handle this way! Now you're on your way to creating your own Rainbow!!!"

🌈

"When all of your Opals and 3mm Solid Sterling Silver Spacers are strung, you can now place your 8mm Solid Sterling Silver Spacer to close your design.  
Now comes your knot!  I use a Surgeons Knot, as I find it to be the strongest knot when making bracelets. Once my knot is tied, I take an end of the Elastic Cord and thread it through the 8mm Sterling Silver Spacer, just enough so the knot is still visible."


🌈"

I then take my E6000 Glue, and dab it on the knot.  Some E6000 Glue tubes come with a needle applicator.  You can use a toothpick.  Now, you can pull your knot into the Solid Sterling Silver Spacer!  Let the knot dry or "cure" for 24 hours.  Snip off the excess elastic, and you'll have your very own Rainbow!"


Shari's Over the Rainbow Bracelet
 Featured Opal Beads
Shari used eight 8mm opal bead and fourteen 4mm opal beads in the following colors:
Other Materials 
Twenty four pieces of 3mm Solid Sterling Silver Spacers

One 8mm Sterling Silver Spacer

15" Beadalon Elasticity Stretch Cord, 0.8 mm

E6000 Glue

Bead Board

Bead Bug or Scotch Tape

Scissors

Follow us everywhere to see our next project...

What do you make?