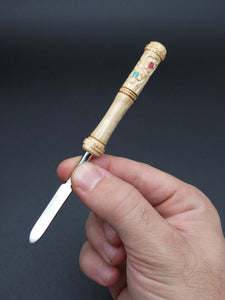 How to Make a Crushed Opal & Maple Wood Custom Tool
How to Make a Crushed Opal & Maple Wood Custom Tool
Meet the artist that makes handcrafted crushed opal and wood custom tools that are incredibly beautiful. Let yourself appreciate their craftsmanship and the meticulous hand carved details in their designs.  
Step into the world of wood working with this beyond talented artist...
Featured Creator
@cellini_co
TAKE A LOOK AT THE VIDEO & KEEP READING...
 The Process Explained by
CELLINI & CO.
🌼"First, the wood species that will work best with the planned carving and inlays are selected. In this case quilted maple (Acer spp.) with Nuclear Green, Fuchsia, Bubble Gum, Turquoise, and Tangerine are chosen. A roughly 6 inch blank of high quality quilted maple is cut, chucked onto the lathe, and
turned round."
🌼"The handle is shaped into the form of a Cellini & Co. model line: "Pomme de pin" (pineconetop), "Georgian" (tapered and decorative), "Haute de gemme" (opal top), or a unique shape not defined by branding. This particular one falls under the "Haute de gemme" line because the top of the handle is inlaid with opal. Once the form has taken shape it's sanded for the first time, and cut off the lathe."
🌼"Hand-carved small daisies will adorn the handle, all with crushed opal centers; other small details will fill out and balance the rest of the piece. Five flowers are drawn around the handle with pencil to act as a guide to get spacing right. The carving process on these handles is tedious, and requires solid attention; these are small objects, which means small mistakes have a big impact. The center of the daisies are carved deep enough to accommodate the fine crushed opal (about 5mm or so) and the opal is then applied. Small stippling details are painstakingly drilled in as straight a line as possible, just above the finger cove. This must be done with great care so the 2mm drill bit doesn't slip,
potentially ruining the piece. Wreaths are carved at either end, and everything is sanded for a second time, by hand, up to 400 grit."
🌼"The daisies are filled, the details have been meticulously engraved, the medical grade stainless steel tip is polished to a mirror finish and attached. Finally, the tool has a protective clear coat applied,
keeping it looking great for years to come, protecting the grain from dirt and finger oils."
🌼"Please, peruse
other Cellini & Co work by visiting their Instagram or website, just one example is not enough to understand the brand. This particular handle is 1 of only 2 made in Thai style out of over 4 years of continuous production."
- The Finished Custom Tool -
What Materials Were Used in This Project?
Crushed Opal: 
Bubblegum Crushed Opal - Size Fine
Fuchsia Crushed Opal - Size Fine
Nuclear Green Crushed Opal - Size Fine
Tangerine Crushed Opal - Size Fine
Turquoise Crushed Opal - Size Fine
 Other Materials:
Quilted Maple Wood (Acer spp.)
Medical Grade Stainless Steel Tip
Finishing Polish
Protective Clear Coat
Tools:
Lathe
2mm Drill Bit
up to 400 grit Sand Paper
STAY CONNECTED 
@theopaldealer
Do You Want To Be a Featured Creator?
Contact Us 
for more details...