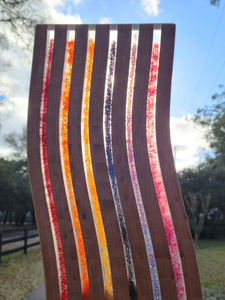 How to Make a Crushed Opal Charcuterie Board
How to Make a Crushed Opal Charcuterie Board
Have you ever wanted to inlay Crushed Opal but you can't decide which project to start? Try your hand at woodworking! 
You will want to see this maker who specializes in wood cutting boards and charcuterie boards! See how they use Crushed Opal in their one of a kind projects...
-

 

Featured Creator -
@beard.edwoods
Checkout @beard.edwoods and their Esty Shop
Meet the Maker
@beard.edwoods has been woodworking for about three years now. He mainly sells his work at local art shows and markets in central Florida. You can also buy one of these wood boards by messaging @beard.edwoods directly on his socials.
 This artist is impowered by their ability to make with their hands. @beard.edwoods is able to capture his creative vision by allowing themselves to have the freedom to make art! The thing he loves about being a maker is...
 "The artistic freedom to make whatever ideas or vision I have."
-@beard.edwoods
@beard.edwoods started working with crushed opal about 6 months ago. He made his first wood board with our Black Fire Crushed Opal. He is now a fellow lover of crushed opal and shared his favorite thing about it...
"The sparkle, when the light hits it just right and the color shifts"
-@beard.edwoods
CHECKOUT HIS NEWEST CREATIONS AND HIS PROCESS...
 The Process Explained by
 Beard Edwoods
🧀"Cut, plane, and glue the wood into an end grain blank approx. 12" wide by 18" long. I chose maple for this board. Cut the end grain blank into thin strips approx. 1/8" thick on the bandsaw. Each strip is then sanded on the drum sander to ensure they are perfectly flat. These end grain strips are then inserted into the curved jig, glued, and clamped together, each group consist of 6 individual strips glued together. Once the strips are glued, they are inserted into and HDPE mold, each group of glued strips spaced approx. 1⁄2" apart; then the initial thin layer of clear epoxy is poured between each strip."
🧀"Once this initial layer of epoxy is almost dry, but still tacky, the crushed opal is then evenly distributed over the epoxy between each group of maple strips and another thin layer of epoxy applied over top of the crushed opal.
Once this second layer of epoxy is almost dry but still tacky, the final layer of epoxy is pour up to the desired level/thickness. Once the epoxy is dry, the board is run through the planer to ensure the board is completely
level and flat."
🧀" The next step is to round over the edges on a router table or hand held router. Then several rounds of sanding; for this board since the epoxy needs to crystal clear to see the crushed opal, I start at 80 grit and work my way up to 3500 grit using an orbital sander. The board is dry sanded up to 400 grit, from 600 to 3500 grit, the board is wet sanded. Once dry, the board is soaked in mineral oil then left to dry overnight."
🧀" The final step is polishing the epoxy to get that crystal clear epoxy look. The board is polished with fine and ultra-fine polishing compound using a foam pad.
Then rubber cutting board feet are screwed to the bottom of the board."
- The Final Product -
The Supplies 
Crushed Opal:
Black Emerald Crushed Opal - Medium 
Golden Pineapple Crushed Opal - Medium 
Nectar Crushed Opal - Medium 
Pacific Sapphire Crushed Opal - Medium 
Ruby Red Crushed Opal - Medium 
Sleepy Lavender Crushed Opal - Medium 

Want them all? Checkout our Rainbow Crushed Opal Pack!
Follow Us for More Projects!
@theopaldealer


What Do You Make?
Show us what you make!
Contact us to learn how you could be our next featured artist...