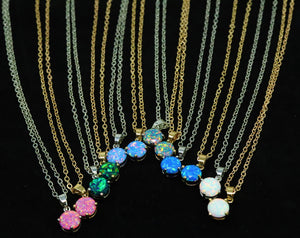 How to Care for Plated Jewelry
How to Care for Your Plated Jewelry
Discover the secrets to effectively caring for your precious plated jewelry! Unveiling a list of crucial do's and don'ts specifically tailored for your cherished plated earrings, necklaces, and rings.
Mastering the Art of Caring for Plated Jewelry - The 3 Essential Rules:
Never allow your plated jewelry to come into contact with any water. 
You can store your plated jewelry in a jewelry box or soft pouch. 
If residue builds up on your plated jewelry after normal wear and tear, you can take a microfiber cloth and lightly dab the jewelry piece. Never rub or wipe the metal of the jewelry piece. Never use water or any cleaning solution on your plated jewelry. 
Expert Tips for Handling and Preserving Your Precious Plated Jewelry

: 
Wash your hands before putting on or removing your plated jewelry. This will help prevent the natural oils in your hands from affecting the plating. 
Apply all makeup, lotions, and/or perfumes before you put on your plated jewelry. Beauty Products could cause a residue to build on your plated jewelry.
Remove all plated jewelry before washing your hands or before you shower/bathe. Water should never come into contact with your plated jewelry.
Remove all plated jewelry before exercising to avoid contact with excessive sweat. Excessive sweat can cause a residue to build up on the plating of the jewelry. 
Do not swim in any body of water with your plated jewelry (such as: 

pools, hot tubs, Jacuzzi, lakes, oceans, and/or etc.)

Avoid storing your plated jewelry with your other plated jewelry. The plating can rub against other jewelry and damage the plating. 
Plated Jewelry is an affordable way of getting the unique look silver and gold have to provide. It is significantly less expensive than solid silver/gold because it is a coating over another metal. Though it is less expensive, it doesn't lack the natural beauty gold and silver provide. Our plated jewelry does not contain nickel, lead, or cadmium. 
Your jewelry's well-being is of utmost importance to us, and we are committed to offering valuable advice. However, please be aware that our tips and recommendations are provided based on our expertise, and individual jewelry pieces may have unique care requirements. We highly encourage you to conduct your own research and consider what methods work best for your specific jewelry. Remember, you are ultimately responsible for the care and maintenance of your beloved pieces.
Click Here to Explore Our Exquisite Collection of Opal Jewelry...