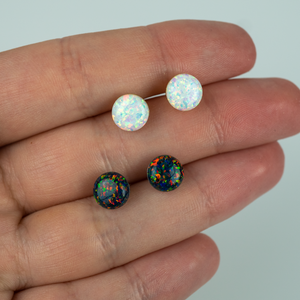 How to Make Opal Cabochon Earrings
How to Make Opal Cabochon Earrings
Have you ever wanted to make your own earrings? Try this DIY earring project and elevate your jewelry collection with our beloved opal cabochons. 
 The Materials We Used for the DIY Earrings:

Two Black Fire Opal 8mm Cabochons, Two Pearl White Opal 8mm Cabochons, Flat Back Silver & Gold Earring Posts, CA Glue, and Sandpaper.
The Process:
✨ We started by preparing the flat back earring posts. We buffed the flat back of the earring post with a fine sand paper. This removes some shine and the smooth texture from the earring to give the glue a better surface for adhesion. 
✨ We then applied a small amount of glue to the flat back portion of the earring. It is important not to apply too much glue or it will squeeze out the sides when applying the cabochon. To make it easier to apply, we squeezed a small portion of glue on a paper towel and used a toothpick to apply the glue to the earring. You can use any glue of your choice for this project.
✨ Then we applied the opal cabochon to the flat back earring by lining up the pieces and apply pressure until the glue starts to hold the cab in place. Allow the earrings to fully dry until the glue is completely hardened. 
Final Results:
Now you have your own pair of opal cabochon earrings!
Watch Our Video on The Process: