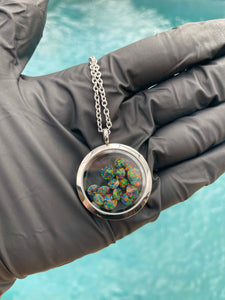 How to Make An Opal Shaker Necklace
How to Make An Opal Shaker Necklace
Have you heard of Shaker Jewelry before? 
From Shaker Pendants to Shaker Rings, there is a whole new world of unique jewelry pieces every gemstone lover wants to add to their collection. Learn how to make your own Shaker Necklace with Faceted Opal Stones...
 The Materials & Tools We Used for the DIY Shaker Necklace:

Shaker Pendant Necklace

Alcohol Cleaning Wipe



- Shaker Necklace with Faceted Opal Stones -

The Process:
💎 We started by prepping the pendant with an alcohol wipe. This helps ensure that the pendant is clean and does not have any dust or particulars that may otherwise be visible. 
💎 We then selected our Faceted Opal Stones. We placed the following items inside of the pendant; 10, of our 5mm Black Fire Faceted Stones and 5, of our 6mm Black Fire Faceted Stones. This was the perfect amount to fill the pendant without overcrowding, so this way the stones can freely move around. 
💎 The final step would be to seal the pendant shut with your choice of glue for extra protection.
💎 Now you have a beautiful Shaker Necklace! We love this design because it is an unique way of using the Faceted Opal Stones.
Final Results:
- Checkout Our DIY Video -
Would Wear This Necklace?
Let us know @theopaldealer on Instagram, Tik Tok, and YouTube!