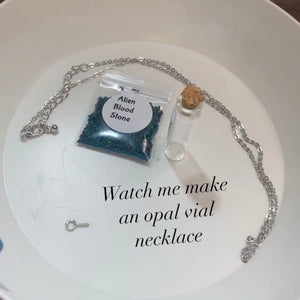 How to Make a Crushed Opal Vial Necklace
How to Make a Crushed Opal Vial Necklace
Learn how to use crushed opal in a new way! 


The Materials we used for the DIY necklace:
1G of Fine Alien Bloodstone Crushed Opal, 2G of Medium Alien Bloodstone Crushed Opal, a three gram vial, an eyelet hook, a chain, vegetable glycerin, and Medium Mercury Adhesive.
The Process:
💚 We started by layering our crushed opal and liquid of choice into the vial. This allows us to fully coat the opal in the liquid which brings out the color play. We used vegetable glycerin because it is a thicker liquid and is easy to work with. You could also use other liquids; such as water, epoxy, CA glue, or any other finisher liquid of your choice. As we layer the crushed opal and liquid into the vial, we gently shake the vial until combined. You can also use a tooth pick to help mix and pack the opal and liquid into the vial. Repeat these steps until the vial is filled with just enough room to still fit the cork.

💚 We used needle nose pliers to attach the eyelet to our chain. We then added the eyelet hook to the top of the vial cork by slowing twisting the screw end into the cork until only the eyelet is exposed. 


💚 We applied a small portion of Medium Mercury Adhesive to the bottom of the cork and firmly pressed the cork into the vial until bonded. This will seal the cork in the vial for a secure method of attaching the vial to the necklace for everyday wear.
💚 This brings us to our final results of a finished Crushed Opal Vial Necklace that could inspire your next DIY project with any materials of your choosing. Try mixing an endless combination of our different opal colors for a unique color blend of your own! 
Watch Our Video