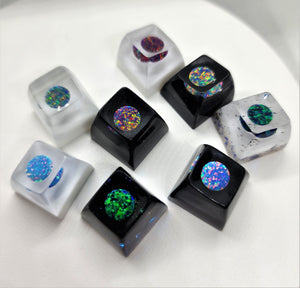 How to Make Faceted Opal Artisan Keycaps
How to Make Faceted Opal Artisan Keycaps 
Crushed Opal is a classic inlay material that could be used for just about any project but what about Faceted Opal Stones?
Faceted Opal Stones are great for jewelry making and there is a whole world of new possibilities waiting to be unlocked.
This maker did just that! Meet the artist that takes innovation to the next level with their artisan keycaps...
-

 

Featured Creator -
@galaxkeycap
Take a look at @galaxkeycap and their Etsy Shop!
Get to Know GalaxKeys
@galaxkeycap started making custom keycaps in 2016. He tried his hand at resin and it paid off! He loves workshopping new ideas and concepts to share with a unique community of custom key board lovers. 
"I really enjoy experimenting with resin and trying new casting concepts. I'm always on the lookout for cool/interesting materials to incorporate into my designs" - @galaxkeycap
In 2017 shortly after he started his business, he found his love for opal of all types. He began working with Crushed Opal and Mosaic Opal in his designs. 
"Opal is just such a dynamic material, the colors flashing and shifting just brings a lot of interest to a piece, it is almost hypnotizing!" - @galaxkeycap
He mainly sells his work on Etsy but can help customers via Instagram and Reddit. Go checkout this artist on Instagram & Reddit! 
Do you want to support GalaxKey?
Shop GalaxKey Etsy!
- Watch Now & Learn More Below - 
 The Process Explained by 

GalaxKeys

⌨️ "Create a two-piece keycap mold, using translucent silicone. The translucent silicone is necessary if you plan on using UV resin. This process can be done completely with 2-part epoxy but be prepared to spend a lot of time waiting for the resin to cure between steps. In this case I used a SA R1 keycap to make the mold."

⌨️ "Apply some UV resin to the mold, just enough to cover the bottom of the mold (which is the top part of the keycap). Cure under UV light."

⌨️ "Apply a small amount of UV resin to the top of the stone and position it face down in the mold, then more UV"

⌨️"Now that your opal is securely placed where you want it, fill the mold with just enough clear UV resin to completely submerge the stone. I used a vacuum chamber to pull any trapped bubbles to the surface for removal. Be sure to leave enough room for the top half of your two-piece mold to fit into the bottom half.  cure under the UV lamp and then flip the mold over and cure for an additional cycle."

⌨️"At this point I switch to a normal two part epoxy for the pigmented base of the keycap. Fill the mold the rest of the way with your color of choice, put on the top of your two-part mold and cure in a pressure pot. I tried to keep the pressure around 45psi to avoid the pigmented resin seeping down between the cured UV resin and the sides of the mold. Occasionally this would still end up happening and I had to wet sand the the cap and polish to clean up the cast."
- The Final Results - 
Want see even more photos? Click Here...
Featured Stones
Black Emerald 8mm Faceted Stones
Cotton Candy 8mm Faceted Stones
Moonstone 8mm Faceted Stones
Orchid 8mm Faceted Stones
BE THE FIRST TO SEE OUR PROJECTS
Follow us on Facebook, Instagram, Tik Tok, & YouTube!
 We Want YOU for
Our Next Featured Creator
Contact us and show us what you make...