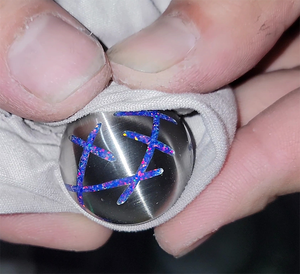 How to Make a Stainless Steel Slab Sphere with Crushed Opal
How to Make a Stainless Steel Slab Sphere with Crushed Opal
Welcome to the world of inlay, where the possibilities are endless when you have a creative vision like this unique artist. We are proud to share the work of an amazing creator who specializes in handcrafted custom tools. Don't miss out on this glimpse into their process...
- Featured Creator -
@kal.hooto.creations
Follow @kal.hooto.creations and stay tuned for their website launch! 
Meet the Artist 
Learn more about the creator and their creations...

@kal.hooto.creations got their start in October of 2021 making custom tools and debuted their work on Instagram shortly after. One year later the idea for inlayed stainless steel slab spheres was born and showcased on their Instagram. They started using Crushed Opal in February of 2022 making for the perfect combination of handcrafted tools and unique inlay projects, which then started their love for Crushed Opal!
"I love the polychromatism and just the way it catches your eye. My lizard brain is just drawn to shiny objects!" - @kal.hooto.creations
  
You can support this creator by following their Instagram and you might even get a chance to purchase one their pieces when available. Keep an eye out for their website launch as well...

It is always an honor to work with a creator who cares about their creations and the customers who purchase their work!
"The fact that at any given time someone can be using something that I created is an amazing feeling!" - @kal.hooto.creations
WATCH THE VIDEO AND KEEP READING TO LEARH MORE ABOUT THE PROCESS
 The Process Explained by
 Kal
.Hooto.Creations

🌟 "First I receive a turned stainless steel sphere from a metal shop based here in the USA. These have a threaded hole that really helps make this project possible."
🌟 "I first layout my design in sharpie, then with a metal cutting disc mounted on a Dremel I cut the design onto the sphere."
🌟 "Next I apply thick CA glue in the cuts, and sprinkle in some crushed opal. To ensure the cuts are filled with the crushed opal, I roll the sphere around in the material shaken off during the previous step."
🌟 "After this I apply some thin CA glue to ensure there are no air gaps, and spray on some activator to allow it to dry."
🌟 "Then, using the threaded hole mentioned earlier, the sphere is spun on a drill and wet sanded up to 400 grit, then scotch brite for a fine brushed finish."
🌟 "Finally, it's hand polished and sent off to the customer."
- The Finished Piece -
 What supplies are needed for this project?
Crushed Opal:
Star Burst Crushed Opal - Size Fine
Other Materials:
Stainless Steel Sphere
Thick CA Glue
Spray Activator 
Metal Polish
Other Tools:
Metal Cutting Disc
Dremel
Drill 
Sand Paper
Scotch Brite
Do You Want To Be a Featured Creator?